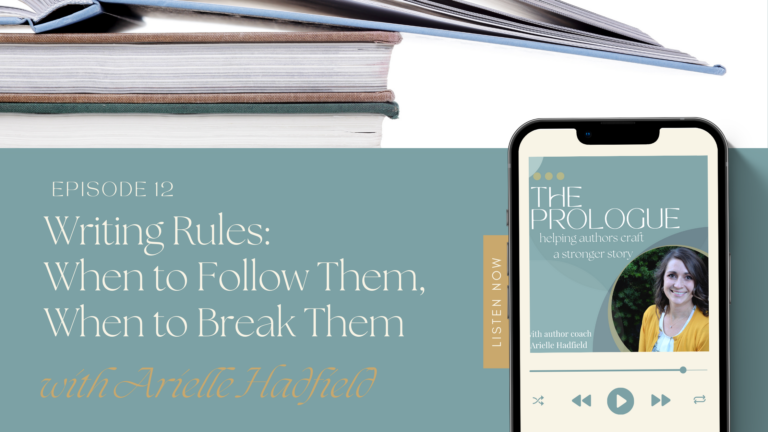 Why do some authors get to break the rules but you can't? Why can't you use made up words or write a really long book and get it published? There are some writing rules that we, as authors, can't break but others can. Today, we are looking at what some writing rules are and if we can break them.
In this episode, we are talking about what some common writing rules are for authors looking to get published. We are covering why we get defensive when edits are suggested, four arguments that authors make when they are told they can't break the rules, and why the writing rules are important.
If you are looking for a supportive community and kind edits, be sure to join  my coaching membership, Real Talk! In this membership, you'll have access to monthly writing courses, weekly group calls with live edits, and personalized feedback and encouragement to help YOU exactly where you are in your writing journey! Don't miss the opportunity to join other authors and learn from each other to write the best book YOU can write!
As always, I'd love to hear from you on Instagram @ariellehadfield.authorcoach or join me in a coaching call where we can discuss your story and dive deeper into your questions. Did you love this episode? LIKE & SHARE with others!
In this episode we cover:
Why it is common for authors to get defensive when edits are suggested

How the standard of writing is different than it was 5, 10, or 50 years ago

Why famous authors can break the writing rules but you can't

What to do when other authors can break rules simply because they do it better

Why we see poorly written books on the shelves and why we don't want our book to be one of them
Related Resources:
Join the Real Talk Membership here!
Join the Group Coaching and Editing sessions
Related blog posts & episodes:
Ep. 2: Your First Draft Isn't Bad
Ep. 5: Writing More Powerful Scenes
More about The Prologue: helping authors craft a stronger story
Welcome to The Prologue, with author coach, Arielle Hadfield.
You've got an idea for a story. Now it's time to get it on paper. The writing world can be a strange and scary place, but you don't have to face it alone.
In this podcast, Arielle guides authors through all the steps of writing a book.
This includes how to take a simple idea and transform it into an entire story with complete characters and a compelling plot, editing strategies, and mindfulness skills to help break through writer's block, handle rejection, and find courage to step outside your comfort zone to get your story out of your head and into stores.
Arielle Hadfield began as an author. Soon she was able to combine her writing and editing skills with her background in mental health and life coaching to become the first of its kind author coach!
Tune in every Tuesday to learn how to craft a stronger story. With examples from books, movies, and music, and a fun, encouraging, and kind environment, Arielle will help you reach your goals, no matter how far-fetched they feel today.